BFA (Animation) Degree
The Program
BFA Animation is an intensive 4-year, 8-semester course designed to enable participants achieve their career goals in the Animation and VFX industry. It's a first-of-its-kind Animation & VFX program in India designed to give participants comprehensive training for a decisive headstart in the industry. Upon completion of the BFA Animation program, participants will be awarded a prestigious BFA Animation Degree by the Jawaharlal Nehru Architecture and Fine Arts University (JNAFAU) which is on par with other Degrees awarded by the University.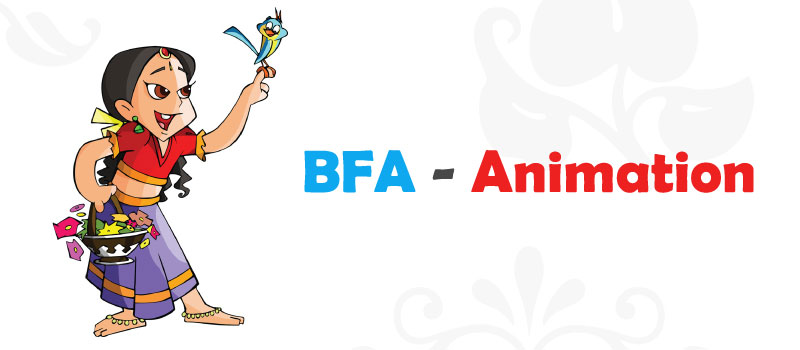 BFA Animation Degree Program Highlights
Immersive, career-focused program in BFA Animation authored by industry heavyweights.
Program imparted by certified, industry-experienced and dedicated mentors.
Strong foundation in the core skills: traditional art (hand drawing & sculpting).
Revolutionary training paradigms aimed at promoting class-leading talent.
100% industry-relevant program for global employability and to help participants pursue the best and the brightest jobs across industries.
Program Eligibility: 10 + 2 or equivalent
Program Duration: 4 years
Degree Title: BFA (Animation)
BFA Animation Degree Curriculum
The curriculum has ample scope to equip participants with the knowledge, skills and capabilities required to succeed at the workplace. The curriculum, designed by JNAFAU and CMCFA is ideally structured to meet the heightened demand for skilled CG Artists in the Animation industry.
Specializations
Modeling and Texturing
Lighting and Rendering
Rigging and Animation
Compositing & VFX
1st Year
I Semester
Histroy of Art (T)
Stroy Development (T)
English (T)
Drawing -Part 1
Colour Design -Part 1
Conceptual Art -Part 1
Forms & Figures

II Semester
English (T)
Script Writing (T)
Drawing-Part 2
Colour Design -Part 2
Conceptual Art -Part 2
Basic Modeling

2nd Year
III Semester
History of Animation (T)
Computer Basics
Story Boarding
Layout Design
2D Character Design

IV Semester
Environmental Studies (T)
Sequential Drawing
Key Frame Animation
Photography
Compositing -Part 1
Portfolio -Part 1

3rd Year
V Semester
Pre-Production (T)
Advanced Modeling
Props & Set Modeling
Character Modeling
Texturing. Lighting
VI Semester
Production (T)
Rigging
Acting for Animation
Character Animation
Facial Animation
Camera Techniques & Rendering
4th Year
VII Semester
Post Production (T)
Video Shooting & Editing
Sound Editing
Visual Effects
Compositing -Part 2
Portfolio -Part 2
VIII Semester
Internship /Practical Training
Final Project
Thesis. Viva Voce